Tips for Reluctant Marketers – Tips #1 & 2
October 4, 2017
Take a look at this graphic.  Do any of these ring true for you?  I've met and worked with many reluctant marketers.  They are reluctant for many reasons.  Most would rather work at their passion, their craft, their business…rather than marketing.  Marketing can be intimidating, although it doesn't have to be.  There are simple and effective tools to get started letting people know about your passion, your craft, your business!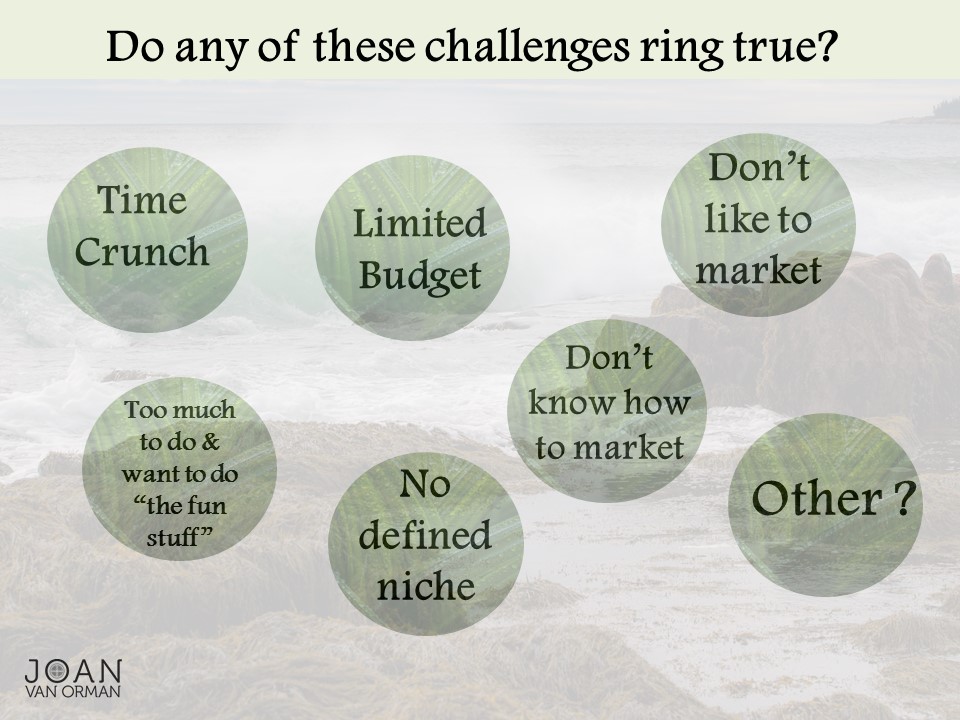 Here's Tip #1 & #2 for the week: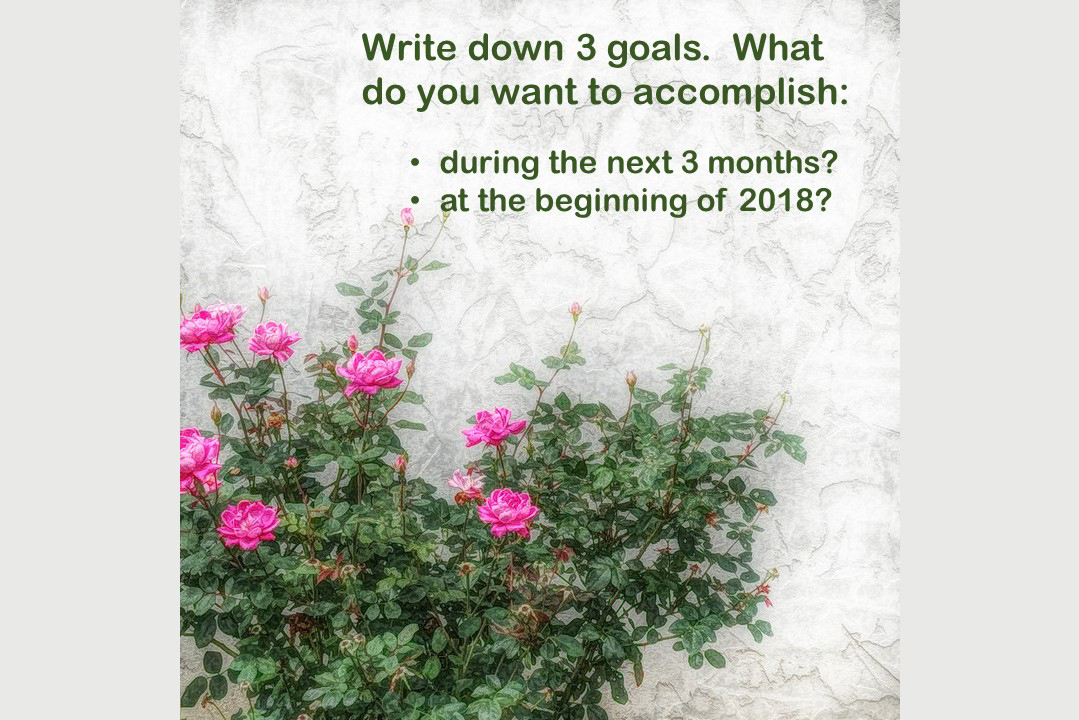 Tip #1:
Take some quiet time, assess your strengths and think about the goals you want to achieve with your business over the next several months.  Perhaps you are just getting started or you are looking to ramp up your business.  I always recommend having a simple marketing plan.  For the reluctant marketer – a marketing plan can seem like a big hurdle.  So break it down into a few manageable goals – building on the vision you have for your business.  Examples of marketing goals include:
To contact three galleries that are a fit with my work (or to research to determine three galleries that are a match with my work).
To develop or revise my professional bio.
To develop a price list for my work.
Once you get started with small marketing steps, like anything, they add up to make it much easier to reach clients and potential clients and to meet marketing and business goals.
Tip #2:
Look at the goals.  What marketing materials, if any, will be needed to accomplish these?  What do you have already on hand, developed, that's ready to go?  What materials need to be developed or refined?  Examples from above:
To contact three galleries that are a fit with my work:  This goal will require marketing materials.  These materials can be flexible, DIY, and must be professional.  I usually recommend:  a cover letter on your branded stationary, a professional bio, a price sheet, a sheet with work samples, and a business card.  Sometimes galleries accept applications and outline their requirements on their website.  Note:  Generally no marketing materials are required to do the upfront research!
To develop or revise my professional bio.  If you don't have a bio, now is a great time to start developing one.  Be ready for your next opportunity.  Visit galleries and online resources to review the variety of examples.  You want your artist bio to project your work and your brand.  There are samples here on this site.  Most have a picture of the artist and even a picture of the artist at work.  Personal note here:  2014 was a particularly rough year for me.  Both of my beloved parents passed away within a few weeks of each other.  I was ill and my great friend and business partner was very ill for the last six months of the year.  As I began to feel better, I took this yes, selfie!  By any account, especially my sister's – I'm not particularly photogenic!  I really like this picture and told Patrick, the web designer – I don't care if it doesn't look like me – I want this picture!  To me it shows making it through a rough year, feeling better and very positive.
To develop a price list for my work.  This will become one of your marketing materials!  As noted above, this is very useful when approaching galleries and also for exhibits and customer inquiries.
Organize your marketing materials in a way that works for you.  I usually keep a file on my computer with my marketing materials and update them as needed. For clients I often print/bind their marketing plan and put the materials on a thumb drive for handy use.  You can also keep a binder of materials that you can easily pull from to meet a business goal or client need.
Bonus Tip:  Have fun with marketing!  Marketing is for everyone – even reluctant marketers.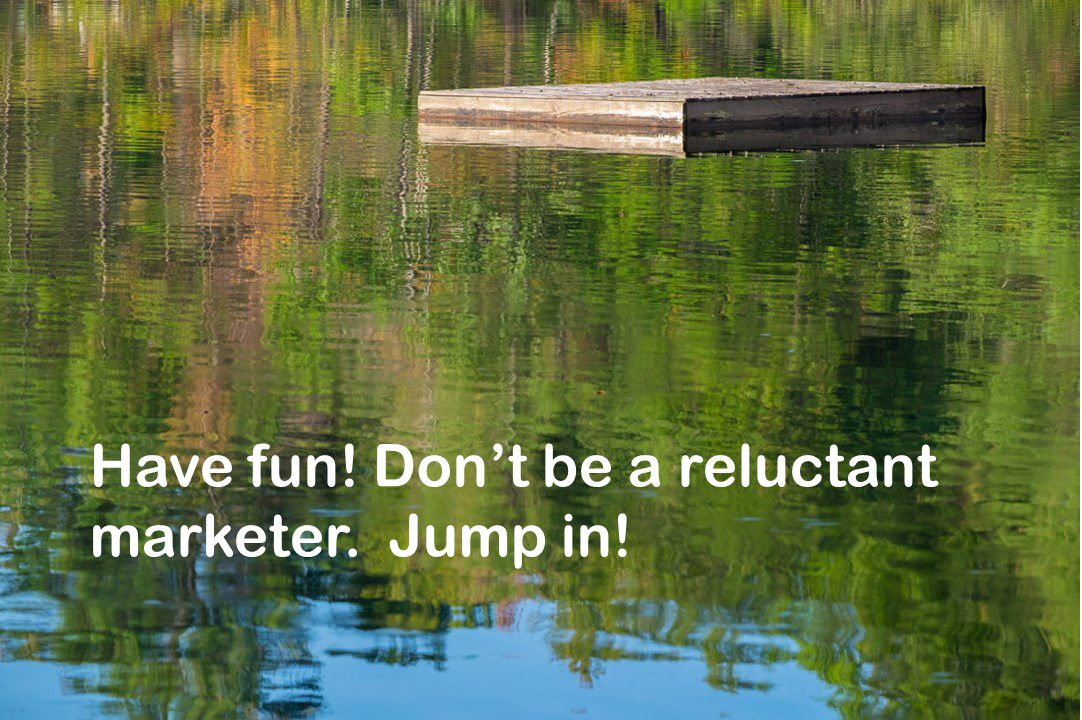 ---
Tags: artist marketing education inspiration